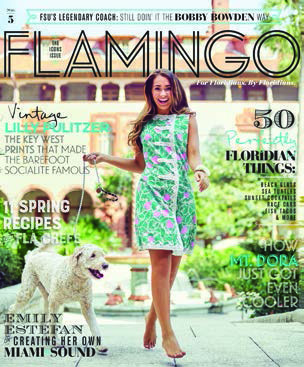 THE MAGAZINE
Iconic. Thoughtful. Floridian.
FLAMINGO is Florida's ONLY statewide feature magazine and website covering people, travel, outdoor pursuits, food, conservation, culture and style across the state. An unmatched combination of meaningful narratives, serious reporting and beautiful images elevates FLAMINGO above other lifestyle and general interest publications in the state of FLORIDA. FLAMINGO, in print and online, is the authority on living an authentic FLORIDA lifestyle from Pensacola to Key West and all points in between.
Tourists turn to it. Locals live by it.
THE MISSION
UNIFY Florida's diverse cultures and vast landscapes through in-depth journalism, rich storytelling and brilliant photography. // CREATE the goto destination for stories on the most compelling people, places and happenings across Florida. // INSPIRE a community of readers to go out and experience the land, waterways, food, arts and culture of Florida.
THE CONTENT
FLORIDIANS
Tastemakers | Politicians | Change Agents | Leaders
PURSUITS
On the Water | In the Field | In the Saddle | On the Beach
TRAVEL
Beaches | Byways | Small Towns | Big Cities
FARE
Restaurants | Chefs | Food | Drinks | Festivals
HABITATS
Agriculture | Wildlife | Ecosystems | Conservation
CULTURE
Art | Entertainment | Music | Books
STYLE
FLA-Made Products | Design
Real Estate | Home & Garden
ISSUES
Current Affairs | Opinions | Happenings
THE STATE OF FLORIDA
Diverse. Wealthy. Savvy.
Nearly 20 million residents make Florida
the third most populous state, behind California and Texas
Travel and Leisure
| 100 million annual visitors spend nearly $200 million daily
| More than 80 million domestic travelers
| 82 percent of bookings, made from Florida's four metropolitan areas, were for intrastate travel
Unparalleled Access to
| 8,426 miles of tidal shoreline
| 161 state parks
| Thousands of golf courses and headquarters for PGA TOUR, LPGA, ATP, WTA
| Home to 10 professional sports teams
| Leading international arts and culture scene
THE AUDIENCE
Smart. Adventurous. Inspired.
Flamingo's readers are passionately pursuing Florida's good life.
Inspired by Flamingo's pages, readers will take action by traveling to the cities, dining in the eateries and buying the Florida-made
products featured in each issue and online.
| Adults ages 35 to 65
| Household incomes of more than $250,000
| Natives, newcomers, part-timers, tourists
| Educated, discerning, curious
| Athletic, outdoor enthusiasts, traveled
| Seeking bespoke experiences
THE REACH
One magazine. All of Florida.
| 20,000 magazines distributed statewide
| Newsstand Sales
Bookstores: Barnes & Noble and Books & Books
Airports: Locations across the busiest airports including Orlando, Miami, Fort Lauderdale, Jacksonville and Destin
Grocers: Fresh Market, Whole Foods, Publix, Winn Dixie, Target
Other retailers: Luxury boutiques and hotels
| 80% sell-through rate
| Media partner with high-end hotels, and premier lifestyle events like One Ocean Resort & Spa, the Florida Boat Show and the Miami Book Fair.
| Subscriber base growing to 5,000 by year-end
| Direct-mail campaign aimed at intelligent, discerning Floridians, in the wealthiest counties, with household incomes of more than $500,000
| Robust digital properties expand Flamingo's content beyond Florida
CREATIVE SERVICES
Let the Flamingo team write and design your next advertorial
DIGITAL
FLAMINGOMAG.COM
Website. Social Media. Newsletters.
Our digital platform, with an average 100,000 page views per issue, gives a community of spirited Floridians, and those who just love the state, a place to gather and relish in fresh content in between the arrival of each printed issue of Flamingo.
Flamingomag.com offers a dynamic mix of behind-the-scenes videos, blogs and a carefully curated calendar of events to complement Flamingo magazine's thoughtful editorial and Florida-fresh design.
DATA
| More than 100,000 page views per issue
| 40,000 page views per month & counting
| 40% male/ 60% female
@THEFLAMINGOMAG
SOCIAL MEDIA
A growing social media presence of more than 5,000 followers on Facebook, Instagram and Twitter keeps Flamingo engaged with our
readers, advertisers and partners across the state and beyond.
E-NEWSLETTER
Bi monthly updates to our readers and partners on the latest stories, events, partnerships and more